Get an offer on your
home instantly
Skip the stress and hassle - Sell to Offernow
Step 1
Request your offer on our website.
Give us a few more details on your home's features and upgrades—it would take only a couple minutes.
Step 2
In 24 hours, get a fair cash offer.
We take the financial risk away so that you can comfortably buy your next home.
Step 3
Perform a free home assessment in person.
Skip the trouble if repairs are needed and let us handle the job.
Step 4
Choose your own closing date
Avoid double-moves and double-mortgages by lining up your close dates. move according to your plan.
How we provide you with a fair offer
1.
Examine similar homes
We analyze the prices of similar homes and will share them in your offer.
2.
Consider unique features
We adjust the price for differences in condition, size, and upgrades.
3.
Adapt the price to market trends
k
We bought thousands of homes which gave us a profound understanding of regional trends.
Transparent pricing, no hidden fees.
     Submit Home​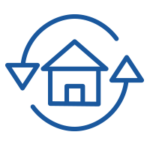 Receive Offer​
k
9 out of 10 Offernow sellers
recommend us!
Sell Your Home Fast with Offernow
Start with getting a cash offer for your home without commitment.
Customer service — (6am-7pm PT)
Frequently Asked Questions
When I request an offer, are there any costs or obligations?
It is free to receive an offer from Offernow on your home and comes with no obligation to sell at all. To get started, enter your email at the top of this page and we're going to walk you through some quick questions about the state, features, and upgrades of your home.
Why it sounds too good to be true — what's the catch?
The question is often asked by people who are unfamiliar by iBuyer business model, and it's a natural concern: "How can you provide me with a good deal at my home and still make enough money to run the business?" Unlike flippers, our business model is fee-based. If you decide to take our offer, we will take a fee which is similar to how an agent takes a commission in a traditional sale. We buy hundreds of homes each month to help homeowners across the Country start their next page of life.